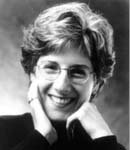 Meredith Gould is a sociologist and writer whose work focuses on the practical, holistic aspects of health, relationships, recovery, and spiritual life. She is the author of two books: Staying Sober: Tips for Working a Twelve Step Program of Recovery (Hazelden), and Working from Home: Making It Work for You (Storey Books).

Her writing has appeared in such diverse publications as American Health, Fellowship in Prayer, Nation's Business, National Business Employment Weekly, Natural Health, New woman, Utne Reader (reprinted twice!), and Vegetarian Times. She's a regular book reviewer for The Times of Trenton.

Gould's work is informed by a fascinating range of work and life experiences. After a decade of teaching undergraduate sociology, she served in state government, managing a collaborative effort between CEOs of Fortune 100 companies and college presidents. Next, she had a stint as senior management at one of New Jersey's largest ad agencies, going solo in 1990.

Meredith Gould started college at Rochester Institute of Technology as an Art & Design major in 1969 and finished her B.A. in Sociology at Queens College, CUNY, in 1975. She's a survivor of day classes with kids, and night school with grown-ups, having taken time off in the 1970s to "find" herself.

She earned a Ph.D. in Sociology from New York University in 1980, did some time in law school, and has spent much of the next two decades exploring stuff like yoga, therapeutic bodywork, psychic surgery, Christian healing, the Forum (EST with bathroom breaks), Byzantine Icon writing, and needlepoint. In addition to writing, she owns her own business called "Space Queen" which helps the busy, burdened, and befuddled get, and stay, organized. She lives in Princeton, New Jersey with two feline muses, Thelma and Louise.



Books:

Staying Sober
Tips for Working a Twelve Step Program of Recovery
Softcover, 200 pp.