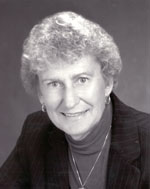 Carol Colleran is a renowned international Certified Alcohol and Drug Counselor, specializing in the treatment of addictive disorders in the older adult. She is the distinguished pioneer of specialized treatment for this population and is the Director of Public Policy & National Affairs at the Hanley Center at St. Mary's in West Palm Beach, Florida.

In demand across the country as a speaker, educator and authority on older adults in addiction, Carol has appeared on the NBC Nightly News with Tom Brokaw and the Today Show. She has given numerous interviews on local television and radio talk shows.

As an active participant in policy development and groundbreaking for several national organizations, Carol continues her commitment to raising professional and public awareness of the special needs of older adults. As a member of the Substance Abuse and Mental Health Task Force of the National Council on Aging, she helped develop the 1999 "Engaging the Aging Services Network in Meeting Substance Abuse and Mental Health Needs of Older People." In 1988, Carol participated in a comprehensive study, "Under the Rug: Substance Abuse and the Mature Woman," for the Center of Alcohol and Substance Abuse at Columbia University in New York, where she was a member of the advisory board.

Carol is an active member of the Millennium Assembly Task Force, a part of the U.N. Millennium General Assembly. In 2000, she presented her famous address, "Breaking the Silence: Substance Abuse in the Older Adult," during the National Council on Aging's 50th Annual Conference and Expo.

The author of two books and numerous articles, Carol has also produced videos in cooperation with The American Association of Retired Persons (AARP) and participated in the award winning PBS video series, "The Doctor Is In," produced by the Dartmouth-Hitchcock Medical Center.

Carol is also active in the American Society of Aging and the Southern Gerontological Society and has worked with the American Bar Association. She began her career as a chemical dependency counselor with the Hazelden Foundation in Minnesota in 1988 and in 1991 earned both her national and international certifications: C.P.A. and I.C.A.D.C.

Carol's presentations and her famous keynote address, "Breaking the Silence," can be customized for workshops, seminars or conferences.



Books:

Aging and Addiction
Helping Older Adults Overcome Alcohol or Medication Dependence-A Hazelden Guidebook
Softcover, Guidebook, 232 pp.