Amy E. Dean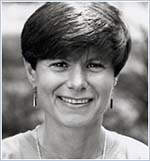 Amy E. Dean began her career as a bestselling author and nationally known speaker by writing books on self-help, personal healing, and motivational topics. Her first book, Night Light, has sold over half a million copies, and today Amy's books are distributed worldwide. With 15 books to her credit, Amy continues to explore issues that are relevant to everyday life and personal growth. Her nonfiction goes right to the heart and soul of her readers, offering inspirational and simple ways to approach life with greater interest, understanding, and commitment to personal fulfillment. Amy is a graduate of Skidmore College and lives in Maynard, Massachusetts.




Author Home Page: http://amydeanwriter.com/



Books:

Night Light
A Book of Nighttime Meditations
Softcover, 4" x 6", 400 pp.

What Is Normal
Family Relationships
Pamphlet, 36 pp.

Feeling Better
Nurturing Self-Esteem
Pamphlet, 32 pp.

Morning Light
A Book of Meditations to Begin Your Day
Softcover, 400 pp.