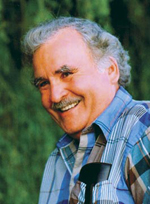 William Borchert is the author of The Lois Wilson Story: When Love is Not Enough and teamed with Geno W. to write Sought Through Prayer and Meditation: Wisdom from the Sunday 11th Step Meetings at Wolfe Street Center in Little Rock.

Borchert was nominated for an Emmy in 1989 for writing the highly acclaimed Warner Brothers/Hallmark Hall of Fame movie, My Name Is Bill W., which starred James Garner, James Woods, and JoBeth Williams. The film was based upon material gathered from personal interviews and in-depth research. The author began his career as a journalist, working first as a reporter for one of New York City's largest daily newspapers and also for a major media wire service. After writing for a national magazine and creating syndicated shows for radio, Bill became a partner at Artists Entertainment Complex, a new independent film and talent management company that went on to produce a number of box office hits. These included Kansas City Bomber starring Racquel Welch, Serpico starring Al Pacino, and Dog Day Afternoon, also starring Al Pacino. A member of The Writers Guild of America and a director of The Stepping Stones Foundation, the author continues his active writing career. Borchert and his wife, Bernadette split their time between New York and Little River, South Carolina, where they are frequently visited by their nine children and their twenty-three grandchildren.

Q. Why did screenwriter Bill Borchert decide to write the biography of Lois Burnham Wilson?

A. Shortly after moving into the new home Bill and his wife Bernadette had built in Little River, South Carolina in 2003, and while unpacking boxes in his new office there, Bill discovered some audio tapes he had made some years before when interviewing Lois Wilson for a movie he was writing about the birth of Alcoholics Anonymous. He had all but forgotten them. Sticking one of the tapes into his tape player, he soon came to realize that little of what Lois had shared with him about her own painful experiences that resulted from her husband's terrible ordeal with alcoholism had been used in the film he wrote called, "My Name Is Bill W." the Warner Brothers/Hallmark. Hall of Fame movie starred James Woods, James Garner and JoBeth Williams. And even the scenes he had written that were filmed concerning her experiences and her co-founding the worldwide fellowship of Al-Anon were left on the cutting room floor. As a close friend of Lois Wilson's, Bill Knew her own personal story was moving and powerful and he believed that people the world over needed to hear it. Also, there had been five biographies written about her husband, Bill Wilson, the co-founder of Alcoholics Anonymous, but not one about her. He felt the telling of her story was long over due. So he sat down and wrote the book, The Lois Wilson Story: When Love Is Not Enough.

Author Home Page: http://www.theloiswilsonstory.com



Books:

The Lois Wilson Story, Hallmark Edition
When Love Is Not Enough
Softcover, 424pp.

50 Quiet Miracles That Changed Lives
Softcover, 264 pp.

1000 Years of Sobriety
20 People x 50 Years
Softcover, 272 pp.

Sought Through Prayer and Meditation
Wisdom from the Sunday 11th Step Meetings at the Wolfe Street Center in Little Rock
Softcover, 216 pp.