William L. White, M.A.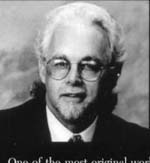 William L. White is a Senior Research Consultant at Chestnut Health Systems/Lighthouse Institute. He has a Master's degree in Addiction Studies and more than 30 years of experience in the addictions field as a clinician, clinical director, administrator, researcher and well-traveled trainer and consultant. He has provided training and consultation services in more than 35 states to local, state, and federal agencies, as well as private industry. He has authored more than 70 articles and monographs, and seven books. His latest book, Slaying the Dragon - The History of Addiction Treatment and Recovery in America, recently received the 1999 McGovern Family Foundation Award for the best book on addiction recovery. Bill was also featured in the Bill Moyers' PBS special "Close To Home: Addiction in America" and Showtime's documentary "Smoking, Drinking and Drugging in the 20th Century."

Books:

Pathways from the Culture of Addiction to the Culture of Recovery
A Travel Guide for Addiction Professionals
Softcover, 528 pp.

Methamphetamine
Its History, Pharmacology, and Treatment
Softcover, 296 pp.

When Painkillers Become Dangerous
What Everyone Needs to Know About OxyContin and other Prescription Drugs
Softcover, 192 pp.