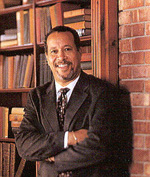 Peter is nationally recognized for his work in the area of chemical dependence in the African-American community. He was the cofounder and, for fifteen years, executive director of the Institute on Black Chemical Abuse. He was appointed to serve on a commission to the White House Conference on a Drug-Free America, and to a congressionally-created national commission on drug free schools. He has traveled extensively both in the United States and abroad providing seminars on alcohol and drug abuse. He has written numerous books on chemical dependence, and for his pioneering effort was named ABC Evening News Person of the Week in 1989.

In addition to his work in chemical dependence, Peter served for five years as executive vice president of corporate community relations of TCF Financial Corporation, a 10 billion-dollar holding company with 183 offices in five states, headquartered in Minneapolis, Minnesota. He supervised all bank audit, compliance, foundation and lobbying activities. Under his leadership, TCF Bank Minnesota was awarded an "outstanding" rating for their community reinvestment activities by federal regulators.

Peter has served on the board of directors for numerous local and national social and civic organizations including Citizens League, Center of the American Experiment, CommonBond, and was a founding member and chair of the Center for New Black Leadership, based in Washington, DC. Most recently, Peter served on the transition team for Minnesota Governor, Jesse Ventura.

Peter appears frequently on the editorial pages of the Minneapolis Star Tribune and provides commentary for Almanac, a public affairs television program in Minneapolis-St. Paul.



Books:

Cultural Pain and African Americans
Unspoken Issues in Early Recovery
Softcover, 48 pp.