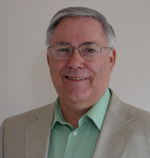 Tom Smith is the cofounder of the Karla Smith Foundation, which supports parents and loved ones of mentally ill people. The foundation was named after his daughter, Karla, who suffered from bipolar disorder before eventually taking her own life. Smith is also the author of The Tattered Tapestry: A Family's Search for Peace with Bipolar Disorder, which he wrote with his wife, Fran Smith, and his son, Kevin.

Tom Smith describes how he came to write A Balanced Life:

In the second semester of her sophomore year in college, our daughter, Karla, suddenly went into a deep depression. We didn't know what to do. Two years later, she was diagnosed with bipolar disorder and for the next five years, we struggled with the roller-coaster emotions of her depressions and her mania and psychosis. What could we do to help her? We tried everything we knew. We loved her. We consoled her. We challenged her. Throughout it all, we witnessed her pain, and suffered our own. She shot herself when she was 26, and our grief continues. This frightening and tragic experience led to the creation of the Karla Smith Foundation as a means to help other people who love a person with mental illness. My book, A Balanced Life, describes the nine strategies we wish we knew and practiced when Karla was alive. They would have helped us cope with her illness.

My interest in writing A Balanced Life grew out of my experience with our support group for the family and friends of anyone with a mental illness. Through listening to the problems and solutions of members of this group, and through recalling my own life with Karla and her bipolar disorder, I developed the nine strategies as a summary of the effective actions that these people used and that I wish I had used. We needed a simple, effective program that could guide our reactions to a loved one with mental illness. These nine strategies are similar to the 12 steps of AA, Al-Anon, etc. in that the strategies provide direction specifically geared toward the unique, complex, frustrating, and fearful lives of people who love someone with serious mental health problems. Each of the strategies confronts an aspect of the life of a person with a mental disorder. Each strategy offers a plan to counteract that challenging aspect.




Books:

A Balanced Life
Nine Strategies for Coping with the Mental Health Problems of a Loved One
Softcover, 140 pp.