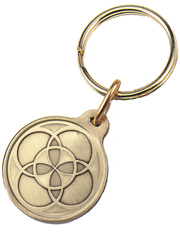 Everyone Matters Recovery Bronze Key Tag
Bronze Key Tag 1-5/16", 100% of Proceeds will be given to BookAid
Item:
2866
Price:
$5.95 Each
Online Price:
$5.35 Each
Show Less >>
Help Hazelden Give Back Through BookAid
We are all connected in recovery. In 2008 alone, Hazelden reached out to more than 200,000 underserved people through our BookAid program, providing free recovery resources to individuals and agencies in need. Now you can join us in giving back to the community by purchasing the Everyone Matters Keychain.
The front of this elegant medallion is engraved with interconnected circles reflecting how the service of one impacts so many others. The back bears the reminder, "Everyone Matters." One hundred percent of the proceeds from the purchase of this keychain goes to Hazelden's BookAid program, providing addiction and recovery resources to individuals and nonprofit agencies in need.

Item:
2866
Related Items

People who bought this also bought