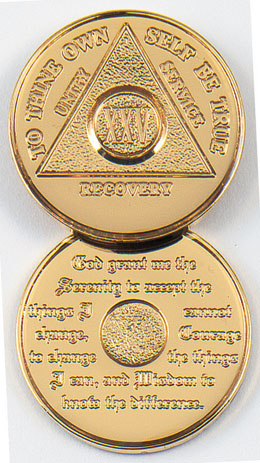 Premier Anniversary Gold Plated Special Order Medallion
Blank and special order over 10 yr
Item:
9551
Other Publisher
Show Less >>
Plated with 24k gold, this premium medallion will commemorate your sobriety.
Available anniversary dates of 11 - 60. Be sure to select year from options offered once in your cart.
*Medallion is engraved with your years of sobriety in Roman Numerals.
*All special order items are non-returnable.
* Will arrive separate from the rest of your order.
* Delivery within 3 weeks.**This item can not be shipped to PO Box addresses, or to addresses outside of the United Sates or Canada.
*Image is for display, actual medallion is unique to year.

Item:
9551
Published Year:
1987
Related Items

People who bought this also bought