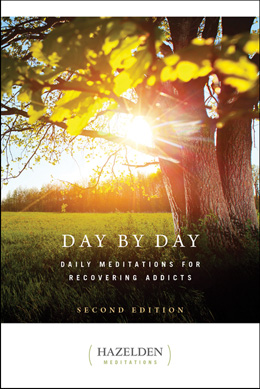 Day by Day second edition
Daily Meditations for Recovering Addicts
Softcover, 384 pp.
Item:
1099
Author:
Anonymous
Price:
$15.95 Each
Online Price:
$14.35 Each
Show Less >>
The books in the Hazelden Meditation Series have guided millions, helping them find the courage and strength they need to live "one day at a time." Originally developed for people recovering from alcoholism and other addictions, these books will also appeal to anyone interested in personal and spiritual growth. Other meditation books in the series include
Each Day a New Beginning, Touchstones
, and
The Promise of a New Day.
"God help me to stay clean and sober today!" That's the affirmation that closes each of the daily mediations in
Day by Day.
More than 2 million recovering addicts have adopted
Day by Day
as their meditation book because its inspirational messages augment and reinforce NA principles about coping with today's problems while staying chemically free. Also available as
E-book – available to purchase from your favorite e-book retailer
Mobile app Apple operating systems)
Item:
1099
ISBN-13:
9781568382340
Publisher:
Hazelden
Published Year:
1987
Related Items

People who bought this also bought