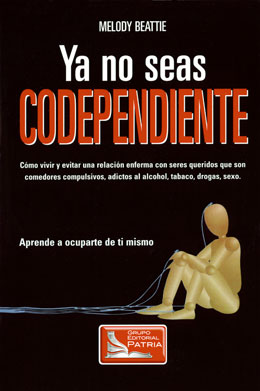 Spanish Codependent No More
How to Stop Controlling Others and Start Caring for Yourself
Spanish edition
Item:
6296
Author:
Melody Beattie
Price:
$15.95 Each
Online Price:
$14.35 Each
Show Less >>
This book is not about how you can help your alcoholic [gambler, overeater, workaholic, sexual addict, criminal, rebellious teenager, neurotic patient, another codependent, or any combination of the above]. . . .This book is about your most important and probably most neglected responsibility: taking care of yourself. It's about what you can do to start feeling better."
--from Codependent No More
The healing touchstone of millions, this modern classic spent over three years on The New York Times bestseller list and made codependence a household word throughout the world. Now recognized as one of America's best-loved and most inspirational authors, Melody Beattie is a wellspring of simple yet revolutionary knowledge about refocusing our energy away from things we can't control to devoting our attention to what we can -- namely, ourselves.
Codependent No More contains dozens of real-life examples, personal reflections, exercises, and self-tests to help us grow strong.
Melody Beattie is also the author of Beyond Codependency, The Language of Letting Go, and The Codependent's Guide to the Twelve Steps.

Item:
6296
ISBN-13:
9786074385052
Publisher:
Grupo Patria Cultural
Published Year:
1991
Related Items

People who bought this also bought