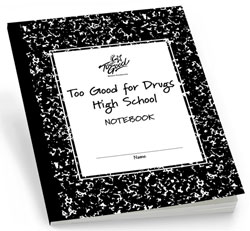 Too Good For Drugs High School Workbooks
Grades 9-12
30 Workbooks, Saddle Stitched
Item:
3512
Other Publisher
Show Less >>
Too Good for Drugs
is an evidence-based, interactive classroom curriculum designed to help students learn: cognitive skills for making decisions, how to manage emotions; and social strategies to refuse peer pressure. Through grade-specific lesson kits utilizing dolls, puppets, games, characters and other fun interactions
Too Good for Drugs
engages staff and students in age-appropriate positive team learning about the consequences of using alcohol and other drugs.
Too Good for Drugs and Violence
High School helps your students grow up by equipping them with the skills and knowledge they need to navigate this exciting stage in life. Designed to mitigate risk factors and develop protective factors, the interactive lessons provide practical guidance for understanding dating and relationships, violence and conflict resolution, underage drinking, substance abuse, and building healthy friendships.
Item:
3512
Publisher:
Mendez Foundation
Published Year:
2017
Related Items

People who bought this also bought