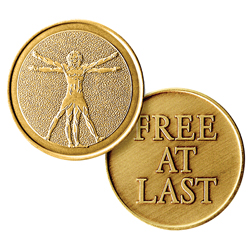 A New Direction Bronze Medallion
Medallion, 1-5/16" Antique bronze
Item:
9292
Price:
$2.95 Each
Online Price:
$2.65 Each
Show Less >>
To learn more about the research, history, and benefits of A New Direction visit
A New Direction information site.
Presented at the completion of A New Direction, this meaningful medallion symbolizes a life free of crime, addiction, and destructive thinking. On one side: the words "Free at last." On the other: distinctive artwork from A New Direction. Antiqued bronze finish. 1-5/16" diameter.
For customization options, call your sales representative at 1-800-328-9000.

Item:
9292
Published Year:
2005
Available Formats & Editions
Format
Language
Price
Online Price
Medallion
English
$73.75
$65.00
Add to Cart

People who bought this also bought