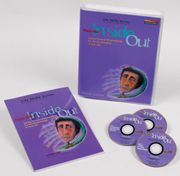 Recognizing Old Behavior Patterns From the Inside Out DVD
DVD, 55 min, cc
Item:
2635
Author:
Earnie Larsen
Show Less >>
Recognizing Old Behavior Patterns
is the second video in
From the Inside Out: Life Skills Series for Inmates and Parolees
curriculum.
Session Five: Your Relationships Start with You
Earnie Larsen presents ten examples of poisonous attitudes that people bring to relationships. Examples are shown of how poisonous attitudes can sabotage relationships and how these attitudes can be overcome.
Session Six: Relationships Take Both People
Earnie Larsen explains that no matter how much one partner may want a relationship, both people must be willing and able to work at making that relationship successful. Testimonials and role plays illustrate this point.
Session Seven: Relationships Take Skills
Earnie Larsen presents five important relationships skills that can be learned. A role play shows how a relationship can look when neither partner uses the skills necessary to make it work.
Session Eight: Taking Action to Change Yourself
While talking about change is easy, actually making that change can be painfully difficult. Earnie Larsen answers the question "How do I change?" by explaining each partner's role in building the relationship and the importance of being trustworthy.

Item:
2635
ISBN-13:
9781616493134
Publisher:
Hazelden
Published Year:
1999
Related Items

People who bought this also bought