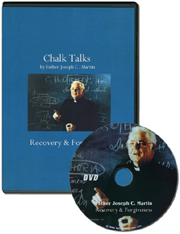 Recovery and Forgiveness by Father Joseph C Martin DVD
DVD, 45 minutes
Item:
2915
Author:
Father Joseph C. Martin®
Other Publisher
Show Less >>
In this film, Father Martin® shares his thoughts on forgiveness and the role it plays in resolving guilt. Individuals entering recovery cope with the challenges of forgiving others and allowing themselves to be forgiven.
"You're just not that good at being that bad."
Father Joseph C. Martin® is known and respected the world over as one of the most knowledgeable and effective speakers in the field of alcoholism recovery. His gentle, informative presentations explore the innate dignity of every human being.

Item:
2915
Publisher:
Kelly Productions, Inc.
Published Year:
1996
Related Items

People who bought this also bought