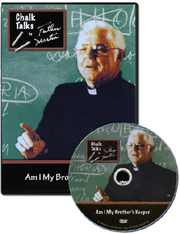 Am I My Brothers Keeper by Father Joseph C Martin DVD
Chalk Talk
DVD, 40 min., cc.
Item:
2919
Author:
Father Joseph C. Martin®
Other Publisher
Show Less >>
In this film, Father Martin® explores the founding of Alcoholics Anonymous and points to the importance of helping others. Being of maximum service to others is an integral aim of the Twelve Steps. Father Martin® reminds viewers that some of the most important 12 Step work recovering individuals do is at home. This film is very insightful and is appropriate for the individual in treatment or the person in recovery that wants to grow in usefulness to others.
"Sobriety is available by commitment to other people."
Father Joseph C. Martin® is known and respected the world over as one of the most knowledgeable and effective speakers in the field of alcoholism recovery. His gentle, informative presentations explore the innate dignity of every human being.

Item:
2919
Publisher:
Kelly Productions, Inc.
Published Year:
1996
Related Items

People who bought this also bought