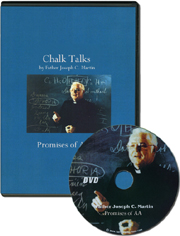 Promises of AA by Father Joseph C Martin DVD
DVD, 40 minutes
Item:
2927
Author:
Father Joseph C. Martin®
Other Publisher
Show Less >>
The program of Alcoholics Anonymous offers the 9th Step Promises, a series of changes thought to occur when practicing this way of life. Newcomers to AA likely consider these Promises unattainable but in this film, Father Martin® assures us that the rewards of practicing the Twelve Steps are available to everyone.
"Are these extravagant promises? We think not."
Father Joseph C. Martin® is known and respected the world over as one of the most knowledgeable and effective speakers in the field of alcoholism recovery. His gentle, informative presentations explore the innate dignity of every human being.

Item:
2927
Publisher:
Kelly Productions, Inc.
Published Year:
2004
Related Items

People who bought this also bought