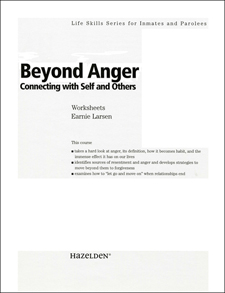 Beyond Anger Worksheets
Connecting with Self and Others
Worksheets, 4 Exercises, 25 pp.
Item:
1216
Author:
Earnie Larsen
Show Less >>
Worksheets
Beyond Anger is a multi-format curriculum created to reduce recidivism by helping inmates and parolees take a hard look at the immense effect anger has on their lives and by teaching them how to move beyond anger and resentment to forgiveness.
This course:
-Takes a hard look at anger, its definition, how it becomes habit, and the immense effect it has on people's lives.

-Identifies sources of resentment and anger and develops strategies to move beyond them to forgiveness.

-Examines how to "let go and move on" when relationships end.
Item:
1216
ISBN-13:
9781616492557
Publisher:
Hazelden
Published Year:
1999
Related Items

People who bought this also bought