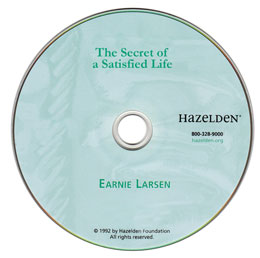 The Secret to a Satisfied Life DVD
The Way You Encounter Life Can Bring Happiness No Matter What Happens
DVD, 44 min
Item:
7429
Author:
Earnie Larsen
Show Less >>
"People want balance. They want relationships. Despite this speed-it-up, do-it-faster society, people know there's more to life."
--Earnie Larsen
Noted speaker Earnie Larsen asks us if we are satisfied with our life. If not, what can we do to change it? Taking us through a step-by-step process of self-discovery, Earnie Larsen demonstrates how it is possible for people to change their perceptions of problems in personal relationships, careers, spiritual development, and many other areas. "Attitude" is the secret to a happy life.
Through this video, we learn how to focus on the specific issues that trouble us and seek out our own responsibility in these problem areas. We learn that the difference between satisfaction and dissatisfaction is as simple as changing our own attitudes and perceptions.
Download your Facilitators Guide now.
This document available in pdf format is free for your needs. If you do not have Adobe Acrobat Reader, it can be downloaded for free at the Adobe Web site.

Item:
7429
ISBN-13:
9781592856299
Publisher:
Hazelden
Published Year:
1992

People who bought this also bought