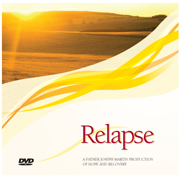 Father Joseph Martin Relapse DVD
40 minutes
Item:
2756
Author:
Father Joseph C. Martin®
Other Publisher
Show Less >>
By Father Joseph C. Martin®
In this film, Father Martin® defines relapse as a return to active addiction after a period of sobriety. Father examines some roadblocks to recovery and identifies the challenges faced by an individual returning from a relapse.
"Be on guard against an unguarded moment."
Father Joseph C. Martin® is known and respected around the world as one of the most knowledgeable and effective speakers in the field of alcoholism recovery. His gentle, informative presentations explore the innate dignity of every human being.

Item:
2756
Publisher:
Kelly Productions, Inc.
Related Items

People who bought this also bought