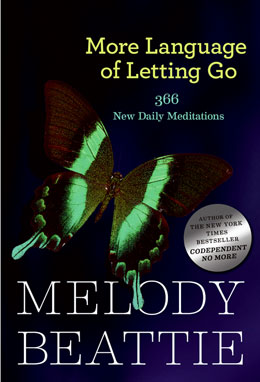 eBook More Language of Letting Go
366 New Daily Meditations
432 pp.
Item:
EB1976
Author:
Melody Beattie
Show Less >>
Buy your Kindle eBook from Amazon
Buy your kobo eBook
Buy your Barnes and Noble eBooks for iPhone, iPod, PC, or Mac
Buy your iBook at iTunes
This new volume of meditations offers clients ongoing wisdom and guidance about relationship issues. An excellent enhancement to therapy, daily thoughts provide clients with ongoing insights into issues such as surrendering, the damaging effects of manipulation, and healthy communication.
More Language of Letting Go
shares unsentimental, direct help for clients recovering from chemical dependency, healing from relationships and family issues, and exploring personal growth. From the print version read through chapter one of:
More Language of Letting Go.
This file is in PDF format.
Click here
to read a one-to-one conversation with the beloved author of
Codependent No More, The Language of Letting Go book and journal, Playing It by Heart, and 52 Weeks of Conscious Contact.
Visit the
Melody Beattie page
for more information about Beattie books and mobile apps.

A Hazelden Mobile Application is available for this title.
Item:
EB1976
ISBN-13:
9781592857739
Publisher:
Hazelden
Published Year:
2000
Related Items

People who bought this also bought