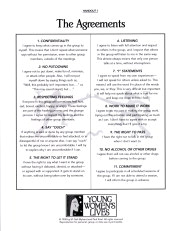 Young Women's Lives Handbook
Building Self-Awareness for Life
Handbook, 40 pp.
Item:
5425
Author:
M. Nell Myhand
Author:
Paul Kivel
Price:
$7.95 Each
Online Price:
$2.95 Each
Show Less >>
This handbook, meant to supplement and enhance the
Young Women's Lives Curriculum
(sold separately). They provide participants with a written record of what they have done and an opportunity to think more deeply about the issues raised in the sessions, perhaps by sharing the materials with friends or family.
This handbook is part of the Young Women's Lives Curriculum that helps young women face problems, identify personal strengths, and locate supportive resources.
Item:
5425
ISBN-13:
9781592857142
Publisher:
Hazelden
Published Year:
1998

People who bought this also bought