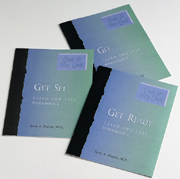 Clean and Free Workbook Set
Quit & Stay Quit Nicotine Cessation Program
Set of 3 workbooks
Item:
0794
Author:
Terry A. Rustin, M.D.
Show Less >>
Short, focused, achievable learning sessions allow clients to move at their own pace-building confidence, clarity, and a strong motivation to quit.
With this set you will receive the following workbooks:
The Get Ready - Clean and Free Workbook 1 Get Ready - Clean and Free Workbook 1
Highlights the reasons for quitting and helps clients identify when and why they craved nicotine the most.
It examines the personal signs of addiction, including activities and behaviors associated with nicotine use.
Get Set - Clean and Free Workbook 2
Outlines the physical and emotional aspects of nicotine use.
Teaches practical methods for managing anxiety without nicotine.
Shows how to recognize feeling that can lead to nicotine use.
Go - Clean and Free Workbook 3
Helps clients develop a two-week preparation plan for greater velocity and optimal "liftoff" on their final quit-date.
Teaches clients crucial relapse defense techniques.
Boosts self-esteem-with accessible techniques for evaluating gains and communicating success.
This is part of the
Quit & Stay Quit Nicotine Cessation Program
--a simple, thorough, proven program to help people at any stage of nicotine use tackle the addiction-and possibly save their lives.
What the Nicotine Cessation Program offers:
Imparts vital information about the nature and dangers of nicotine in clear, forthright language.
Enhances treatment outcomes with a multi-format program combining the best elements of behavioral therapy and Twelve Step philosophy.
Helps providers reach more clients in less time--flexible, streamlined materials adapt to specific clinical needs.
Supports a variety of counseling scenarios, including self-directed study.
Improves the odds of implementing a successful smoke-free environment for treatment, corrections, and other service providers.
Reduces the risk of relapse for chemically dependent clients.
Item:
0794
ISBN-13:
9781616492380
Publisher:
Hazelden
Published Year:
1995
Related Items

Items Included

People who bought this also bought