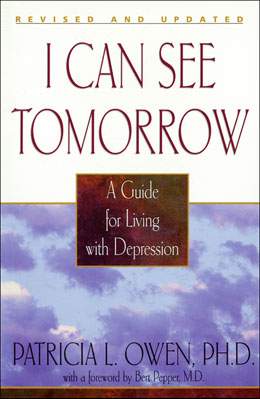 I Can See Tomorrow Second Edition
A Guide for Living with Depression
Softcover, 324 pp.
Item:
1754
Author:
Patricia L. Owen, Ph.D
Price:
$13.95 Each
Online Price:
$12.55 Each
Show Less >>
For those who are seeing the signs of depression in themselves and looking for answers, this thoughtful, respectful, and thorough book takes the mystery out of depression and points the way to recovery. Because dealing with depression is not a do-it-yourself project, Patricia Owen offers a hand and holds out hope. She outlines a practical, balanced approach to treatment that integrates biological, psychological, and social factors. The result is an invaluable volume that works as a self-help book or as an adjunct to professional treatment-and that could mean the difference between the darkness of depression and the light of a new day.
Patricia L. Owen, Ph.D., is the director of the Butler Center for Research at Hazelden in Center City, Minnesota.

Item:
1754
ISBN-13:
9781568385686
Publisher:
Hazelden
Published Year:
2000
Related Items

People who bought this also bought