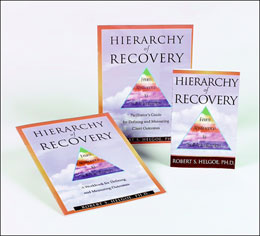 Hierarchy of Recovery Collection
From Abstinence to Self-Actualization
Includes 1 book, 1 facilitator's guide, 25 workbooks and 1 CE test = 8 CE hours
Item:
0661
Author:
Robert Helgoe, Ph.D.
Price:
$179.95 Each
Online Price:
$99.00 Each
Show Less >>
"What keeps patients going in recovery after they are no longer patients? Why make self-inventories, get rid of secrets, make amends, and go to more meetings not connected to a treatment facility? Are those activities ends in themselves or are they means to some other end?"
-
Hierarchy of Recovery
A scholarly and engaging discussion of recovery from addiction, based on Abraham Maslow's hierarchy of needs and created by a leading treatment provider. Checklists and personal inventories help you measure and quantify individual client progress--a critical capability in this age of accountability.
defines the full scope of recovery beyond abstinence
provides counselors and clients with a powerful new dialogue to promote continued healing
includes checklists and personal inventories
*Hazelden is an approved continuing education provider by NAADAC (program #0003810), CAADAC (program #OS-04-651-1012), and IAODAPCA (program #8737).

Item:
0661
ISBN-13:
9781616492335
Publisher:
Hazelden
Published Year:
2002
Related Items

Items Included

People who bought this also bought