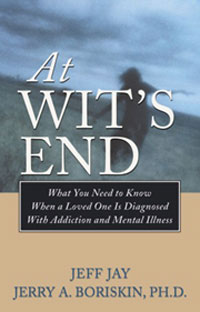 eBook At Wits End
What You Need to Know When a Loved One is Diagnosed with Addiction and Mental Illness
280 pp.
Item:
EB2450
Author:
Jeff Jay
Author:
Jerry A. Boriskin, Ph.D., C.A.S.
Show Less >>
Buy your Kindle eBook from Amazon
Buy your Barnes and Noble eBooks for iPhone, iPod, PC, or Mac
Buy your iBook at iTunes
At Wit's End is a guide that will provide vital information - and support to families dealing with a loved one's co-occurring psychiatric and addictive problem.
Addiction experts Jay and Boriskin demystify complex terms and provide you with helpful insights about how psychiatric diagnoses mimic addictive disorders, why chemical use exacerbates psychiatric problems, and when intervention is needed.
Excerpt:
"Once a person has a powerful reason to live - whether for love, faith, friendship, or goals - obstacles become challenges and stubbornness turns into determination."
Item:
EB2450
ISBN-13:
9781592859146
Publisher:
Hazelden
Published Year:
2007
Related Items