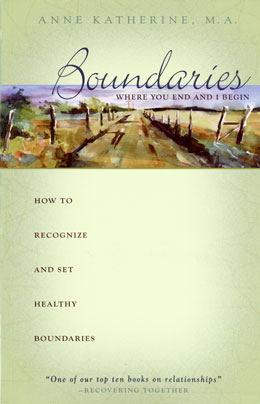 eBook Boundaries Where You End and I Begin
How To Recognize and Set Healthy Boundaries
144 pp.
Item:
EB7803
Author:
Anne Katherine, M.A.
Show Less >>
Buy your Kindle eBook from Amazon
Buy your kobo eBook
Buy your Barnes and Noble eBooks
Buy your iBook at iTunes
Boundaries bring order to our lives, strengthen our relationships with others and ourselves, and are essential to our mental and physical health. For those of us who have walked away from a conversation, meeting, or visit feeling violated and not understanding why, this book helps us recognize and set healthy boundaries. Real-life stories illustrate the ill effects of not setting limits and the benefits gained by respecting our own boundaries and those of others.
Item:
EB7803
ISBN-13:
9781592859405
Publisher:
Hazelden
Published Year:
1991
Available Formats & Editions
Format
Language
Price
Online Price
Paperback
English
$15.95
$14.35
Add to Cart