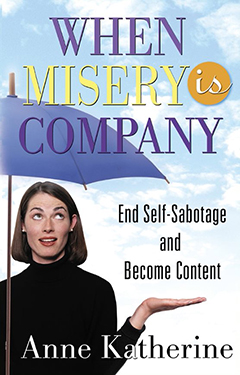 When Misery is Company
End Self-Sabotage and Become Content
Softcover, 304 pp.
Item:
2158
Author:
Anne Katherine, M.A.
Price:
$15.95 Each
Online Price:
$14.35 Each
Show Less >>
Surprising as it may sound, many people take comfort in their own misery. Feeling too good for too long (or even feeling good at all) can be scary for people, explains Anne Katherine.
"Achievement creates anxiety. Intimacy leads to fear. Happiness produces uneasiness. Pleasure causes pain. The solution to this dilemma: what feels good has to be stopped. I call this an addiction to misery." Katherine's fascination and perspective book provides immediate assistance to those people who think they might be making choices that keep them at a "carefully calibrated level of existence--beneath bliss and above despair."
Also available as an E-book – available to purchase from your favorite e-book retailer.
Item:
2158
ISBN-13:
9781592850846
Publisher:
Hazelden
Published Year:
2004
Related Items
Available Formats & Editions
Format
Language
Price
Online Price
eBook
English

People who bought this also bought