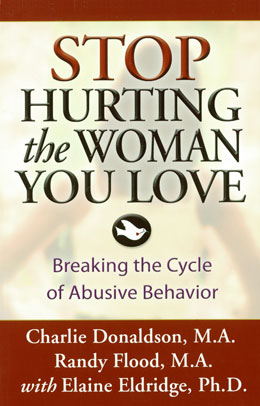 Stop Hurting the Woman You Love
Breaking the Cycle of Abusive Behavior
Softcover, 224 pp.
Item:
2608
Author:
Elaine Eldridge Ph.D.
Author:
Randy Flood M.A.
Author:
Charlie Donaldson, M.A.
Price:
$15.95 Each
Online Price:
$14.35 Each
Show Less >>
End the cycle of abuse - for good. Authors Charlie Donaldson, Randy Flood and Elaine Eldridge uncover a proven action plan that violent men can use to change their behavior. Filled with insightful questionnaires and actual case histories, the essential how-to book
Stop Hurting the Woman You Love,
will help end abusive patterns in favor of healthier, happier relationships. Also available as an eBook – available to purchase from your favorite eBook retailer.
Item:
2608
ISBN-13:
9781592853540
Publisher:
Hazelden
Published Year:
2006
Related Items
Available Formats & Editions
Format
Language
Price
Online Price
eBook
English

People who bought this also bought