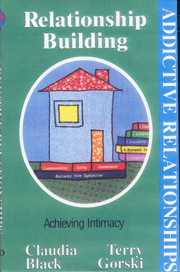 Relationship Building DVD
Achieving Intimacy
DVD, 33 min.
Item:
2563
Author:
Claudia Black, Ph.D.
Author:
Terence T. Gorski
Other Publisher
Show Less >>
Dr. Claudia Black and Terry Gorski explain to the viewer what constitutes a normal relationship and what steps are involved in the building of one.
In Achieving Intimacy they use the analogy of constructing a house as a way of explaining how to create a healthy relationship. The foundation consists of the 3 C's -- Communication, Caring and Commitment. The levels (floors) of relationships are -- Casual Contact, Companionship, Friendship, Romantic Love and Committed Love.
Aspects of a healthy relationship are examined -- unconditional love? -- forever and ever?? and resources are examined and explained. You can have a healthy relationship.
This is part of the Addictive Relationships video series.

Item:
2563
Publisher:
Mac Publishing
Published Year:
1989
Related Items

People who bought this also bought