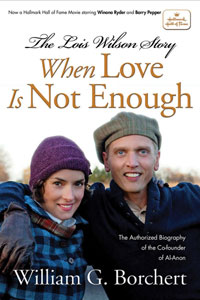 eBook The Lois Wilson Story
When Love is not Enough, The Biography of the Cofounder of Al-Anon.
424 pp.
Item:
EB7307
Author:
William G. Borchert
Show Less >>
Buy your Kindle eBook from Amazon
Buy your kobo eBook
Buy your Barnes and Noble eBooks for iPhone, iPod, PC, or Mac
Buy your iBook at iTunes
Lois Wilson, the wife of Alcoholics Anonymous cofounder Bill W., knew better than anyone that families, friends, and loved ones of alcoholics are also affected and need informed support and advice.
The Lois Wilson Story: When Love Is Not Enough
is both a testament to Wilson's spirit and a guiding light for those whose lives parallel hers.
"Bill Borchert came into my life during our astounding screen collaboration in My Name is Bill W. What a joy to revisit this friendship in his new achievement, The Lois Wilson Story. Bill Borchert will always be a seminal part of my life and now millions of others will get to appreciate his selfless devotion to the woman who founded Al-Anon and her mesmerizing story. Bravo, my friend."
Emmy A ward-winning actor (My Name is Bill W.) James Woods. "Bill Borchert shares the intimate recollections of Lois Wilson in an authentic and powerful tale of helplessness, hope, and fulfillment. This view of Lois' life with Bill Wilson and the birth and nurturing of the Twelve Step movement is awesome and rewarding. It is a page-turning read and a tribute to Lois, cofounder of Al-Anon, and her passion to bring healing to everyone affected by the family disease of alcoholism."
Johnny Allem, President/CEO
The Johnson Institute "The story that would complement that of Bill W's had yet to be written. And now, William Borchert has done the job. Borchert begins his book with an easy-flowing, active tense, almost fictional style that keeps you riveted on Lois and her love story. It's well done. I'll be reading and utilizing for research the Borchert story for many years."
Dick B. (a pseudonym)
Writer, Historian, retired Attorney, Author of 25 published titles on the history and spiritual roots of A.A.
From the print version read the
introduction and chapter one
of:
The Lois Wilson Story
. This file is in PDF format.
Item:
EB7307
ISBN-13:
9781592858071
Publisher:
Hazelden
Published Year:
2005
Related Items

People who bought this also bought