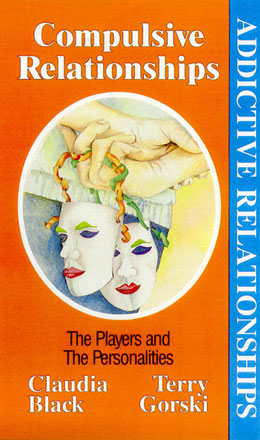 Compulsive Relationships DVD
The Players and the Personalities
DVD, 36 min.
Item:
2562
Author:
Claudia Black, Ph.D.
Author:
Terence T. Gorski
Other Publisher
Show Less >>
The Players and The Personalities
guides the viewer to an understanding of compulsive relationships. Dr. Claudia Black and Terry Gorski ask, "How many of you have started a relationship even though you knew you were going to be hurt? How many of you wanted to get out of a destructive relationship, but could not? How often have you began a relationship to 'fix' you?"
Claudia and Terry describe two particular players in an addictive relationship -- the Counterdependent and the Codependent -- and they list the characteristics of each thru the use of role-play and stories.
In this presentation Terry and Claudia combine humor with information. In the end the viewers are provided with significant information so that they may begin in-depth discussions of addictive relationships and to start the recovery process towards forming a healthy relationship.
This is part of the Addictive Relationships video series.

Item:
2562
Publisher:
Mac Publishing
Published Year:
1986
Related Items

People who bought this also bought