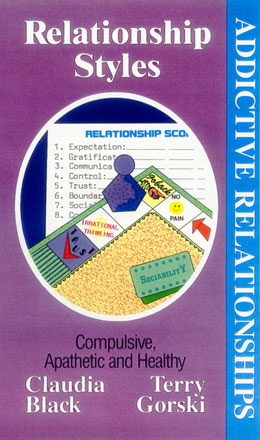 Relationship Styles DVD
Compulsive, Apathetic and Healthy
DVD, 30 min.
Item:
2561
Author:
Claudia Black, Ph.D.
Author:
Terence T. Gorski
Other Publisher
Show Less >>
In
Relationship Styles: Compulsive, Apathetic and Healthy
, Dr. Claudia Black and Terry Gorski examine three types of addictive relationships, Compulsive -- both partners crave intensity without sharing any real substance; Apathetic -- both partners seek to avoid pain, they want to get along with each other with a minimum of involvement, expectations and pain; Healthy -- both partners find mutual respect and happiness in a relationship that does have its ups and downs. These three types of relationships are different in eight important ways -- Expectations, Gratification, Communication, Influence, Trust, Boundaries, Sociability and Consequences. Thru the use of the Relationship Score Board each of these areas are explained as to how they apply to the three types of addictive relationships.
The information contained in this work is an essential building block for those individuals and couples who are involved in constructing healthy relationships. This video is part of the Addictive Relationships video series.

Item:
2561
Publisher:
Mac Publishing
Published Year:
1989
Related Items

People who bought this also bought