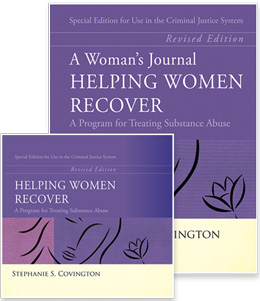 Helping Women Recover Curriculum Special Revised Edition
Special Edition for Use in the Criminal Justice System
Revised Edition
Item:
2598
Author:
Stephanie S. Covington, PhD
Other Publisher
Show Less >>
In this revised version of
Helping Women Recover
, Dr. Covington addresses the special concerns and issues of women with substance use disorders who are in correctional settings. This innovative program integrates the theories of women's psychological development, trauma, and addiction treatment in an approach specifically designed to meet the needs of chemically dependent women in jails, prisons, drug courts, and community correctional settings.
The package of a facilitator guide and client journal provides counselors, mental health professionals, corrections staff, and program administrators the tools they need to implement a highly effective program with women's groups. Topics include self, relationships, sexuality, and spirituality, areas that women in treatment have identified as necessary for growth and healing or issues that trigger relapse. This flexible program stands nicely on its own or can be comfortably integrated with existing recovery programs.

Item:
2598
ISBN-13:
9780787995348
Publisher:
Jossey-Bass Publishers
Published Year:
2008
Related Items

People who bought this also bought