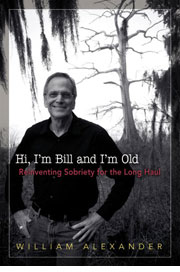 eBook Hi I'm Bill and I'm Old
Reinventing My Sobriety for the Long Haul
200 pp.
Item:
EB7399
Author:
William Alexander
Show Less >>
Buy your Kindle eBook from Amazon
Buy your kobo eBook
Buy your Barnes and Noble eBooks for iPhone, iPod, PC, or Mac
Buy your iBook at iTunes
"Funny, courageous, and empowering. In exploring the richness of his own life, Alexander celebrates and invites us to discover the uniqueness and wisdom within ourselves. This book is a gift to those of us who are old, and even more, perhaps, to those who are young."
Zen Master Dennis Genpo Merzel, author of Big Mind, Big Heart: Finding Your Way , "Moving between the intimacy of self-revelation and the universality of spiritual wisdom, Alexander takes us on an absorbing and illuminating journey to the outer edges of life."
Kevin Griffin, author of One Breath at a Time: Buddhism and the Twelve Steps
Out of author William Alexander's personal reflections and hard-won insights emerges an unconventional approach to the challenges of achieving and maintaining real sobriety--"a radical way of living on this earth, endlessly honest, open, and willing"--that come with aging. Beginning with the admission that we are as powerless over growing old as we are over our addictions, Bill takes readers on a journey of discovery and, in doing so, overturns the clichés of age, revealing how he was able to let go of old ideas about "self," experience meditation in a new light, and discover the virtues of simplicity. With one foot planted in the principles of AA, and the other in his ever-evolving personal spiritual journey blending Eastern and Western traditions,
Hi, I'm Bill and I'm Old
helps people in recovery embrace the unique challenges that come with age as lessons for reinventing their own sobriety. From the print version read through
chapter one
of:
Hi I'm Bill and I'm Old.
This file is in PDF format.
Item:
EB7399
ISBN-13:
9781592858101
Publisher:
Hazelden
Published Year:
2008
Related Items

People who bought this also bought