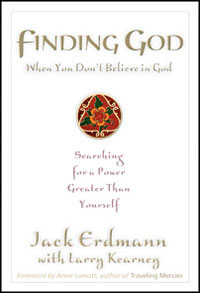 eBook Finding God When You Don't Believe in God
Searching for a Power Greater Than Yourself
192 pp.
Item:
EB1009
Author:
Jack Erdmann
Author:
Larry Kearney
Show Less >>
Buy your Kindle eBook from Amazon
Buy your kobo ebook
Buy your Barnes and Noble eBooks
Buy your iBook at iTunes
Foreword by Anne Lamott
Here is an opportunity to listen in on fascinating conversations with people who found God when they didn't really want to and weren't even looking. Through a series of deeply personal interviews with individuals from different walks of life, the authors conduct a captivating discourse on discovering a "higher power." The interview subjects are not proselytizers, nor are they interested in comparing spiritual states. Their stories are neither tidy nor definitive. What they offer, however, is a remarkable, refreshing, and ultimately satisfying mosaic on the meaning and manifestation of God.
Key features and benefits
interviews honor personal experiences and reveal universal truths
imparts a hopeful, empowering message
foreword written by Anne Lamott, author of Traveling Mercies
authors received 2002 IPPY award for "A Bar on Every Corner"
About the authors
Jack Erdmann is an accomplished salesman and businessman who has more recently made a name for himself as a popular author and lecturer. He lives in the San Francisco area.
Larry Kearney, a poet and novelist, has published nine books of poetry. He lives in Larkspur, California.
Item:
EB1009
ISBN-13:
9781616494384
Publisher:
Hazelden
Published Year:
2003

People who bought this also bought