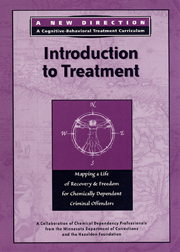 Introduction to Treatment DVD
Online Price: $149.00

Help inmates acclimate to chemical dependency treatment with this powerful DVD. Features real inmates who speak candidly about their biggest fears and greatest challenges of being in a prison treatment program.
Frequently Asked Questions About A New Direction
Inmates, not actors, talk about their biggest fears and greatest challenges in becoming involved in a prison treatment program. Whether their initial motivation to participate was to get out of general population for a while, to please a spouse or family member, or to truly make life changes, the inmates candidly discuss their reasons for entering a cognitive-behavioral therapy program and their experiences during treatment. Among their discoveries about treatment:
change won't happen unless you are honest about your attitudes, behaviors, and choices
in time, you have to be willing to share feelings and disclose personal information
as a group member you are responsible for holding yourself and others accountable for words and actions
reaching out to others for help and support is difficult but necessary
Taped in Minnesota correctional facilities, A New Direction video series allows real inmates to tell the real story about recovering from a life of addiction and crime. The result is a powerful, direct, and liberating message about finding a life of recovery and freedom. A New Direction is Hazelden's comprehensive cognitive-behavioral therapy curriculum for addicted offenders.
To learn more about the research, history, and benefits of A New Direction visit A New Direction information site.
If you would like more information, have questions, or would like to schedule training please contact your Hazelden Account Representative at 1-800-328-9000.

Item: 2589
ISBN-13: 9781592854431
Publisher: Hazelden
Published Year: 2002
No Other Formats or Editions Found