Youth in Treatment Video Collection (1-10 Clinicians)
Youth in Treatment
One Year Electronic Subscription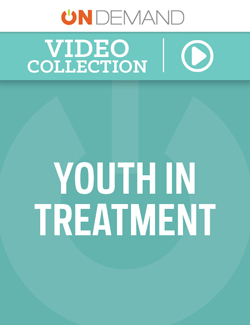 Youth in Treatment Video Collection (1-10 Clinicians)

This single item can not be purchased online. Please call Hazelden Publishing at 800-328-9000 or 651-213-4200 (outside USA) to talk with one of our sales representatives.
We want you to be confident in your purchase. Preview a digital subscription and explore the easy-to-use platform before you buy. Request a
FREE two-week trial of Treatment OnDemand.
This OnDemand video collection addresses concerns many teens and young adults face using 11 engaging videos that cover:
Twelve Steps for young adults
Consequences of youth drug sue
Trauma
Co-occurring disorders
Consequences
Preventing relapse
And more important information for adults in treatment
See the
"Complete Collection"
tab for a complete list of videos and descriptions. The subscription includes:
200 pages of material
317 minutes of video
All facilitator guides, client sessions, reproducible materials, and videos from the program
Additional client education resources, including videos and fact sheets
Free, automatic content updates
Pricing:
1-10 clinicians: $999 per year
11-25 clinicians: $1,599 per year
25+ clinicians: request a quote
Questions? Call 800-328-9000 to talk with your
sales representative.

This OnDemand video collection addresses concerns many teens and young adults face. The 11 engaging videos cover drugs of abuse, marijuana, addiction and recovery, choices and consequences, trauma, body image, and more.

Medical Aspects of Substance Use Disorders:
This educational video provides information on the neurobiology of addiction--i.e., how alcohol and other drugs affect the brain and central nervous system. Using the simplest terms, this video explains why it is so difficult to overcome a severe substance use disorder.
Young Adults Discover the 12 Steps:
Young people in recovery discuss how working a Twelve Step program helps them in their recovery journey. Participants learn what a Twelve Step group is, how to find a home group, what happens during a Twelve Step meeting, and how to find a sponsor.
Youth and Drugs of Abuse:
Doctors and clinicians join young people in recovery to discuss symptoms and consequences of drug abuse, the neurobiology of addiction, substance abuse treatment, and life in recovery.
Teens and Trauma:
This video addresses traumatic events teens may experience, discusses healthy and unhealthy reactions, and explains the importance of dealing with life's challenges without resorting to self-destructive behaviors.
Adolescents and Co-occurring Disorders:
This video introduces youth to strategies for maintaining recovery while coping with a co-occurring disorder.
Legal Consequences of Alcohol and Other Drugs:
This video shows the serious social and legal ramifications of teenage drinking and drug use through interviews with adolescents, attorneys, and law enforcement.
Done Drinking: Getting Straight, Staying Sober:
Adolescents in recovery talk about why they started drinking, how alcohol took over their lives, what they did to get sober, and who they've become in recovery.
Preventing Relapse: Taking the Necessary Steps:
Adolescent participants learn to identify the self-destructive thoughts and actions that can derail recovery, and how to deal with them.
Adolescents and Marijuana:
This video explains why marijuana is so popular, as well as the physical, emotional, and spiritual consequences of using marijuana.
Body Image Trap:
This video opens up a discussion on anorexia, bulimia, and steroid and encourages participants to evaluate personal beliefs and behaviors.
Choices and Consequences:
This video dramatizes teenage drug behavior through the story of three friends. Questions? Call 800-328-9000 to talk with your
sales representative.
Item: SE9219
Publisher: Hazelden
Published Year: 2016
Category: Professional
No Other Formats or Editions Found