OnDemand Focus on Marijuana (1-10 Clinicians)
Focus on Marijuana
One Year Electronic Subscription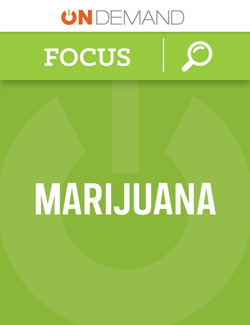 OnDemand Focus on Marijuana (1-10 Clinicians)

This single item can not be purchased online. Please call Hazelden Publishing at 800-328-9000 or 651-213-4200 (outside USA) to talk with one of our sales representatives.
Help adults and youth let go of marijuana with Hazelden Publishing's top three cannabis-specific programs.
Marijuana Brief Intervention:
The full screening, brief intervention, and referral to treatment (SBIRT) model in
Marijuana Brief Intervention
helps you determine each client's severity of use, raise awareness of consequences, provide an incentive for positive change, and refer people to more intensive treatment if appropriate. The program can be tailored to meet individual participant needs through a one-session, four-session, or six-session format. Sessions address the following topics:
preparing for change
strategies for change
managing withdrawal
problem solving
relapse prevention
CANDIS:
An evidence-based and abstinence-oriented cannabis treatment program for youth and adults,
CANDIS
uses motivational enhancement therapy (MET), cognitive-behavioral therapy (CBT), and contingency management to help clients realize problematic cannabis use, participate in treatment, and abstain from use using. The
CANDIS
program begins with a client assessment and continues with ten sessions that examine:
Physical and psychological effects of marijuana
Internal and external triggers
Strategies for change
Co-occurring disorders
Withdrawal and relapse management
Marijuana: A Prevention and Education Toolkit for Communities:
Raise awareness, affect policy, prevent addiction, and ultimately improve the health and safety of your community. This toolkit for communities reflects the latest thinking and offers the most effective resources for communities to use in creating awareness and sharing the truth about marijuana, including:
The latest and most-accurate drug information
Six audience-specific action guides for community leaders, schools, parents, health care professionals, policy influencers, and employers
Compelling video segments
Professionally designed campaign resources
Directory of links to and contact information for trusted resources
The subscription includes:
940 pages of material
63 minutes of video
All facilitator guides, client sessions, reproducible materials, and videos from the program
Additional client education resources, including videos and fact sheets
Free, automatic content updates
Pricing:
1-10 clinicians: $799 per year
11-25 clinicians: $1,299 per year
25+ clinicians: request a quote
Questions? Call 800-328-9000 to talk with your
sales representative.

Help adults and youth let go of marijuana with Hazelden Publishing's top three cannabis-specific programs.


Item: SE9510
Publisher: Hazelden
Published Year: 2017
Category: Professional
No Other Formats or Editions Found