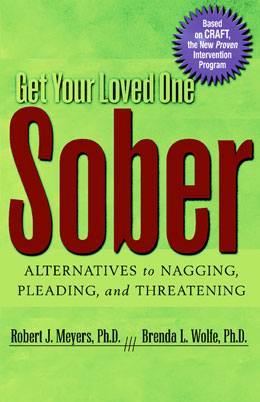 Author: Robert J. Meyers, Ph. D., Brenda L. Wolfe, Ph.D.
Get Your Loved One Sober
Price: $15.95

Online Price: $14.35

This informative, user-friendly book teaches friends and families how to use supportive, non-confrontational methods to encourage their loved one struggling with addiction to seek treatment.
Historically there have been few options available for individuals seeking help for treatment-resistant loved ones suffering from substance abuse.
Co-author Dr. Robert Meyers spent ten years developing a treatment program that helps Concerned Significant Others (CSOs) both improve the quality of their lives and to learn how to make treatment an attractive option for their partners who are substance abusers. Get Your Loved One Sober describes this multi-faceted program that uses supportive, non-confrontational methods to engage substance abusers into treatment. Called Community Reinforcement and Family Training (CRAFT), this evidence-based program uses scientifically validated behavioral principles to reduce the loved one's substance use and to encourage him or her to seek treatment. Equally important, CRAFT also helps loved ones reduce personal stress and introduce meaningful, new sources of satisfaction into their life.
Key Features
CRAFT is more effective than other types of interventions and is listed in the National Registry of Evidence-based Programs and Practices (NREPP)
This breakthrough new system is sweeping the recovery field. This is its first introduction to the general public.
Contains simple exercises readers can practice at their own pace, with no costly or heart-breaking interventions.
Proven successful for numerous addictions, not just alcoholism.
Also available as an E-book – available to purchase from your favorite e-book retailer.
Item: 2066
ISBN-13: 9781592850815
Publisher: Hazelden
Published Year: 2004