Inspiration For Your Journey
Welcome to Recovery Road, a new podcast from Hazelden Publishing. Here you'll find powerful thoughts, excerpts, and reflections from our most popular resources. These are the words, insights, and realizations from best-selling authors who have helped millions conquer substance abuse disorder. Now more than ever we need to find calm in the chaos, stay focused on self-care, and commit to long-term recovery. You are not alone. We are in this together. Join us on Recovery Road.
Step Twelve is when we start giving back and being of service. From transforming our lives through active spirituality to the adventure of reaching out, we're exploring Step Twelve this month on Recovery Road.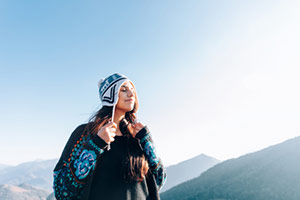 December 1, 2022
The Active Spirituality of the Twelfth Step

In her book A Woman's Way Through the Twelve Steps, Dr. Stephanie Covington guides readers through the Twelve Step journey through the lens of women's perspective. In this excerpt, we learn what a spiritual awakening is and how it applies to us as we take the Twelfth Step. Listen.
There are many paths to conscious contact with a Higher Power of our understanding: from mindfulness meditation to daily reflective renewal. This month's Recovery Road offers us a few options to consider.
On Recovery Road in October, we learn how to sober up to our humanness, break the cycle of stress in our relationships and to simply keep moving forward.
Reframe your thinking, let go of the life you planned, and plot a new path forward. You'll learn how to do all this and more on the September Recovery Road.
Personalization, envy, guilt and shame. This month's Recovery Road will help you overcome these feelings as well as build a solid foundation for your recovery ahead.
From understanding the difference between arrogance and humility to learning how to be great and small at the same time, this month's Recovery Road will set you on the path to becoming a better person.
Find gifts in disguise and healing magic on this month's Recovery Road.
Presence, purpose, and persistence. These are the core foundation of our recovery—and some of the wisdom, insight, and inspiration you'll find in this month's Recovery Road.
Join us in April for Meditation Mondays, an exploration in how to accept change, and how to let go of the life you planned so you can build a better future.
Do you know how to forgive? How to claim your power? How to prioritize the most important? Find answers to these questions and much more in this month's Recovery Road podcasts.
Watching our words, taking small steps, and practicing meditation: these are just a few of the topics in this month's line-up of powerful podcasts to help you in your recovery.
Meditation Mondays, fearless relationships, and the six essentials to achieving lasting recovery are a few of the powerful podcasts in this month's Recovery Road.
Humility, celebrations, and self-care. These are a few of the topics in this month's line-up of podcasts.
From sponsorship advice to finding your moral compass, our November podcasts will give you much to be grateful for on your recovery journey.
Telling the truth, caring for yourself, and staying on the sobriety highway: these are just a few of topics on your journey along Recovery Road in October.
The Hazelden Betty Ford Foundation is a force of healing and hope for individuals, families and communities affected by addiction to alcohol and other drugs. As the nation's leading nonprofit provider of comprehensive inpatient and outpatient addiction and mental health care for adults and youth, the Foundation has treatment centers and telehealth services nationwide as well as a network of collaborators throughout health care. Through charitable support and a commitment to innovation, the Foundation is able to continually enhance care, research, programs and services, and help more people. With a legacy that began in 1949 and includes the 1982 founding of the Betty Ford Center, the Foundation today is committed to diversity, equity and inclusion in its services and throughout the organization, which also encompasses a graduate school of addiction studies, a publishing division, an addiction research center, recovery advocacy and thought leadership, professional and medical education programs, school-based prevention resources and a specialized program for children who grow up in families with addiction.