Interactive online training
FIT is the only comprehensive, evidence-based online training program that gives professionals the skills needed to provide
the most effective approach to treating clients with
co-occurring substance use and mental health disorders. By drawing upon numerous randomized controlled trial, FIT provides a state-of-the-art science approach to treatment.
Click here to see FIT in action!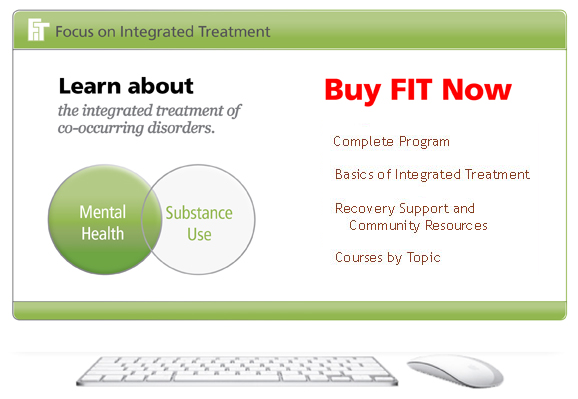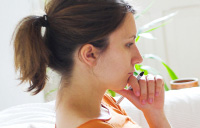 What is FIT?
FIT's 35 comprehensive, interactive online learning modules, which include inspiring personal recovery stories, clinical vignettes, interactive exercises, and expert panel presentation. Modules are 30 minutes long, with testing at completion and continuing education hours awarded.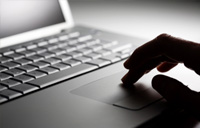 Benefits of FIT
FIT combines best practices in substance use and mental health therapies. The interventions used throughout each of the 35 training modules include evidence-based therapies such as cognitive-behavioral therapy, motivational interviewing, and Twelve Step facilitation.

FIT was designed to help you build the knowledge and skills needed to successfully integrate the treatment of clients with co-occurring disorders.
* Earn up to 52.5 CEs
* Become CCDP or CCDPD certified
* 35 highly interactive, engaging learning modules
* Inspiring personal recovery stories
* Real-world unscripted clinical vignettes
* Interactive exercises
* Expert panel presentations
Awards and Recognition
Journal of Dual Diagnosis, Volume 7, Issue 3, 2011

An article on the New York State implementation of FIT confirms that distance learning with support is a feasible vehicle to train practitioners in large treatment delivery systems.

FIT has won several prominent awards, including

Brandon Hall Excellence in Learning Technology Award
Best Custom Content

Omni Intermedia Award
Silver Awards in Government and Internal Communication

Horizon Award
Bronze Award for Excellence in Design and Use of Video

Communicator Award of Excellence
Best Interactive Design
Click on any of the course titles below for additional information and to purchase.
Earn CE hours, receive new certification, renew current certification
With the successful completion of any individual module, you will earn 1.5 CE hours. When you complete the entire 35-module program, you will earn 52.5 CE hours. You can use these hours to renew current certifications or to achieve new credentials, including certification for CCDP, CCDPD, and more.
You may choose to complete the full program, sign on to the Clinician or Clinical Administrator Collections, or take courses in specific topic areas within each collection. Click on the links below to learn more about the courses and to register for FIT.


Price
IC&RC
Hours
NAADAC
Hours

FIT The Complete Program - Modules 1-35

$525.00
52.5
40

FIT Complete Clinician Collection - Modules 1-31

$465.00
46.5
35

FIT Screening & Assessment - Modules 1, 3-7

$90.00
9
7.5

FIT Motivational Interviewing - Modules 1, 8-11, 22

$90.00
9
7.5

FIT Cognitive Behavioral Therapy - Modules 1, 19-21

$80.00
6
5

FIT Stagewise Treatment - Modules 1, 12-17, 22

$160.00
12
10

FIT Integrated Treatment Planning - Modules 1, 12-15, 22, 28

$105.00
10.5
8.5

FIT Medications & Integrated Treatment - Modules 1, 27, 29

$60.00
4.5
3.75

FIT Clinical Supervision - Modules 1, 30-31

$60.00
4.5
3.75
FIT Basics of Integrated Treatment -
Order in which modules should be taken: 1, 24, 25, 26, 3, 4, 5, 6, 7, 8, 9, 10, 11, 12, 23, 27, 29

$170.00

25.5

21.5
FIT Recovery Support & Community Resources -
Order in which modules should be taken: 1, 24, 25, 26, 18, 23

$90.00

9

7.5

FIT Complete Clinical Administrator Collection - Modules 1, 2, 32-35

$90.00
9
7.5
FIT Administrator
Program Benchmark & Fidelity Measures - Modules 1-2, 33-35

$75.00

7.5
6.25

FIT Administrator Clinic Leadership - Modules 1, 2, 32

$60.00
4.5
3.75
Before you purchase the courses, Read the Terms of Use Agreement, learn about the specialized set-up and support services provided to FIT customers by the Center for Practice Innovations at Columbia Psychiatry.
Read or learn more about the Fit Course Objectives.
FIT is endorsed by: NAADAC - provider #000381.
If you practice in the State of New York within an OMH-licensed or OASAS-certified program, visit practiceinnovations.org and search for "FIT."
Call (800) 328-9000 to speak to your dedicated sales representative.
FAQs:
Click here of to view a full list of frequently asked course questions.
Terms of Use
Review the Terms of Use for FIT Program Electronic Subscription Agreement..
View FIT Informational Video
| | |
| --- | --- |
| | To find out why FIT (Focus on Integrated Treatment) is the only comprehensive online training and credentialing program for treating clients with co-occurring disorders. FIT combines evidence-based best practices in substance use and mental health therapies. |
Learn More!
Free 1-hour educational webinar.
Purchasing or for more information
Call your Hazelden dedicated sales representative at 800-328-9000.
Help desk support:
The Center for Practice Innovations at Columbia Psychiatry team is available from 9:00 a.m. to 5:00 p.m. EST (8:00 a.m. to 4:00 p.m. Central) for technical support. Email cpihelp@nyspi.columbia.edu or call 646-774-8422 to speak with an expert on the FIT program. The help desk is closed on holidays.