Recovery is about more than walking away. Sometimes it means learning to stay and deal. It's about building and maintaining relationships that work.
-- Beyond Codependency
---
Hazelden Graduate School of Addiction Studies Launches Online Degree



Applications are now being accepted for the online master's degree program recently approved by the Higher Learning Commission and launched by the Hazelden Graduate School of Addiction Studies (HGSAS). The Master of Arts in Addiction Studies: Integrated Recovery for Co-Occurring Disorders focuses on the science of addiction and mental health and can be completed in as little as two years.



---

Accept Every Gift

In our continuing series of reader-shared stories, Richard Choate relates the slogans he's seen in Twelve Step rooms to the rules of improvisation comedy and comes up with a unique parallel perspective.



---
9/11 Reflections

Betty Ford Center Director of Medical Education Joseph Skrajewski talks about how the events of 9/11 affected his life and personal recovery.

---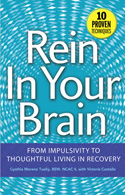 Rein In Your Brain: From Impulsivity to Thoughtful Living in Recovery

Have you ever wondered why you chose your particular partner? There are positive and healthy reasons to be attracted to and develop a relationship with someone, and there are less healthy reasons for doing so.



---
Community Events
Alumni Events
Professional Events
---