Girlfriend of Bill: 12 Things You Need to Know about Dating Someone in Recovery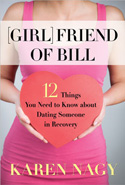 When partners of recovering addicts have no personal addiction or recovery experience, it can be helpful for them to know what their loved one has been through and how their loved one developed healthy relationship skills. Author Karen Nagy outlines Steps Four through Ten: the "Relationship Steps."
Why Some People Call Steps Four through Ten the "Relationship Steps"
Mending relationships that were broken due to addiction is an ongoing task in recovery. Many PIRs [people in recovery] also need help establishing healthy relationships. Some PIRs come from unhappy families in which emotional or physical abuse and addiction were common. Because of this, some PIRs may have developed trust, intimacy, or abandonment issues. As a result, they might view dysfunctional relationships as normal and seek out these types of unhealthy relationships in their new sober life, unless they are made aware of what they are doing and work diligently to release and heal their past. When they were drinking and using, they may have grown used to doing whatever it took to cover up, excuse, or engage in their addictive behavior. When it comes to an addiction disorder, deceit, manipulation, and friendships with fellow drinking or drugging buddies are too often the rule, rather than the exception. In other words, there's often a lot for them to "unlearn" in recovery.
In Twelve Step programs, and especially in Steps Four through Ten, PIRs learn how to develop healthy relationship skills. They work on taking responsibility for the harm they have caused others, and acknowledge the harm that others have caused them. Ultimately, these Steps are about asking for forgiveness and forgiving others. In these Steps, PIRs practice reaching out to other people and face their fear of rejection. In the process, they learn mutual respect for others and how to have equality in a relationship rather than power over someone else.
When I mentioned to my friend Mark that I was writing this chapter, he said, "Yikes! That's enough for a whole book!" He then proceeded to tell me about his own struggles and achievements as he worked on each of these "relationship" Steps. Sometimes these Steps take a long time to work through the first time, and because recovery and relationships are ongoing realities, these are Steps that are revisited time and time again.
You may meet your PIR while they are in the midst of working Steps Four through Ten and be curious about what this "amends making" is all about. I was so unfamiliar with the Twelve Steps that I didn't know enough to ask Steve about them or if he had done them. And I certainly didn't know that, as someone in a relationship with a PIR, it would have been good for me to do these Steps as well. Now I've discovered that these "relationship" Steps are a balanced, healthy way even for non-PIRs to examine their own selves and their relationships with others. But the Steps are especially useful if you are dating a PIR, because the skills you learn from the Steps may be helpful in your relationship.
Step Four asks people to make "a searching and fearless moral inventory" of themselves. As the Big Book explains it, a personal inventory works much like a business inventory, similar to when a store owner sorts through his or her goods to see which are salable, which are damaged, and which have to be thrown out. When PIRs do a personal inventory, they list the things--their thoughts, feelings, character traits, and behaviors--that stand in the way of recovery and those personal strengths that can help in recovery. A business that tries to sell useless or damaged things goes broke; a PIR who holds on to useless and unhealthy thoughts, feelings, and behaviors also goes "broke" and risks relapse.
The Big Book, page 64, says that "resentment is the 'number one' offender," and that it destroys more addicts than anything else does. It is obviously very important, therefore, for PIRs to identify and release their resentments in a constructive way. My friend Paul told me about helping PIRs make "resentment lists." He said at first they'll say "heck no, I don't have any resentments," until they actually start listing the people and things that make them angry. Paul said that the more thorough the list, the better, in order to make sure the PIR deals with any smoldering resentments (or other thoughts and feelings) that might creep out later in an unhealthy way.
The moral inventory in Step Four gives PIRs a practical tool for honestly and courageously facing how their addictive actions may have hurt others and harmed themselves in the process. There is no right or wrong way to do this Step, and those who work it don't stop to try to figure out why they did what they did--they merely make a list in whatever way works best for them, trying to be as "searching and fearless" as they can be. After listing their resentments, many PIRs include in their lists the other categories suggested in the Big Book:
fears
people we have harmed
sexual harms done to others
This last category of sexual harms is not limited to actual physical harms like infecting someone with a sexually transmitted disease, or having sex with someone against their will. This category also gets the PIR thinking about how they were inconsiderate with their partner, how they might have been jealous or suspicious, or how they might have cheated on their partner. Paul told me that, for him, the easiest part was to remember and list all the people he had harmed. It was harder for him to admit the sexual harms he'd done and the people he'd used when he was still drinking. But he said he needed to face those things if he ever hoped to have a healthy relationship--sexual and otherwise--in the future.
When people work Step Four, they begin to realize that in order to stay clean and sober, they need to handle all their feelings--the good, the bad, and the ugly ones--in a healthy and safe way rather than covering them up with mood-altering chemicals or addictive behaviors. Many PIRs who have numbed their feelings for so long start to actually feel again. Others might become ready to face past traumas such as sexual, physical, or emotional abuse, and they might realize they need professional help to deal with painful and upsetting memories. If you sense (or know) this is the case with your PIR, it's good to give them some space and lots of tender support and encouragement, remembering that you can't be their therapist, but you can be their friend.
---
Excerpted from Girlfriend of Bill: 12 Things You Need to Know about Dating Someone in Recovery by Karen Nagy. Nagy is a college professor, actor, and songwriter. She wrote this, her first book, based on her own dating experience and love of the Twelve Steps.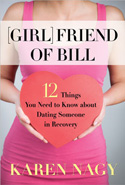 Girlfriend of Bill: 12 Things You Need to Know about Dating Someone in Recovery
Softcover, 232 pages
Being in a new relationship is hard enough, but if the person you're dating is a recovering alcoholic or addict, there may be more to consider than just mutual interests and attraction. For Karen Nagy, dating a recovering alcoholic felt, in some ways, as if she were seeing someone "from another planet"--with his own language, culture, and social behaviors.
With humor, compassion, and a great respect for what it takes to recover from an addiction, this first-of-its-kind field guide offers an "inside scoop" on what people do in Twelve Step meetings, why they need a sponsor, what is a sponsor, and why phrases like "Let go and let God" and "Easy does it" keep creeping into your conversations. Nagy offers twelve key points that you need to know about dating a person in recovery. She also helps you identify the warning signs of developing your own codependent tendencies by playing into your partner's addictive thinking and behavior--and what to do about them.
By gaining a greater understanding of your companion's recovery program, you can help him or her stay sober, learn how to deal with character flaws, and also build your own confidence in the potential for a healthy, successful relationship.
List Price: $14.95
Online Price: $13.45
Recovery Matters, June 2014