Contact Us
Hazelden Publishing
15251 Pleasant Valley Road
P.O. Box 176 Center City, MN 55012-0176
Business hours: 8 a.m. - 4:30 p.m.
(Central Time)
Monday - Friday 800-328-9000
651-213-4200
651-213-4793 fax
email us
Hazelden mobile applications for the
iPhone, iPad, and iPod touch
Free Inspirations
from Hazelden
Field Guide to Life
Twenty-Four Hours
a Day
Each Day a
New Beginning
The Language of
Letting Go

Food for Thought
A Day at a Time
Touchstones
MySoberLife
Opioid Recovery App
More Language of Letting Go
Day by Day
Morning Light
Night Light

*Due to Apple regulations, we are not able to publish the Undrunk or 12 Stupid Things apps at this time. Please check back for updates.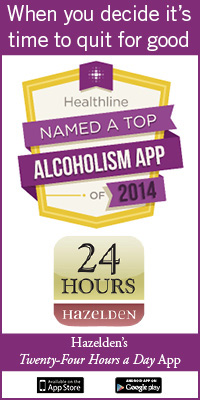 eBooks
Hundreds of titles now available:
Spread the Word
Help us get the word out by signing on to iTunes or your favorite Android retailer and submitting a review today!