Product implementation training
Help prevention specialists maintain program fidelity and optimize student experience with
this research-based program. Training is scheduled regionally on an as-needed basis, or can be scheduled and customized to fit the needs of your major program installation.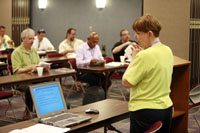 Who should attend
Participants will be able to
understand how this evidence-based program was implemented by the University of Minnesota

demonstrate how to introduce this material and work with small groups of students planning their presentations

conduct an actual case example

explore additional ways to involve community members who litigate incidents involving youth and alcohol

identify how to involve parents and the community
Agenda
8:00 Registration

8:30 Welcome and introductions
• Agenda
• Expectations
• Getting acquainted

9:15

Project Northland in context
• Slick Tracy
• Amazing Alternatives!
• PowerLines
• Supercharged!
• The Problem

10:00 Break

10:15 Class Action program overview
A comprehensive approach

10:45 Planning a case presentation

12:00 Lunch

12:45 Presenting your case

2:15 Break

2:30 Reviewing the Teacher's Manual

3:00 Strategies and options for implementation

3:30 Closing/Evaluation
For training, consultation and technical assistance please contact Hazelden Publishing at training@hazeldenbettyford.org or call 800-328-9000.