ABOUT SANDRA
Sandra Swenson is the mother of two sons—one of whom struggles with addiction. A voice for the loved ones of addicts, she first documented her experiences with her son's addiction in the critically-acclaimed book The Joey Song. An advocate for acceptance, education, healing, and recovery, Sandra can frequently be found sharing her story at events nationwide.


TENDING DANDELIONS
Honest Meditations for Mothers with Addicted Children
Item 3481
Continuing the tradition of Hazelden's beloved meditation books, Tending Dandelions by Sandra Swenson provides moments of recognition, confession, and healing for those who are realizing that recovery rarely follows a neat or comfortable path. Along the way, we plant beautiful roses only to be injured by their thorns, and we pull up unwanted dandelions that, at times, are our only source of wishes. Tending Dandelions is a vital source of wisdom, support, and strength that helps us begin our own journey of recovery.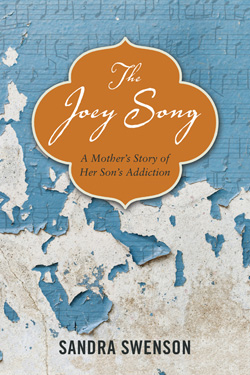 THE JOEY SONG, A Mother's Story of Her Son's Addiction
A Mother's Story of Her Son's Addiction
Item 3564
The Joey Song is the poignant story of a defiant addict and the mother who won't give up on him. She finally realizes that it hurts more to hang on than to let go, and that letting go is not the same thing as giving up. Sandra Swenson beautifully orchestrates a mother's lessons of love and loss, while surviving her son's addiction.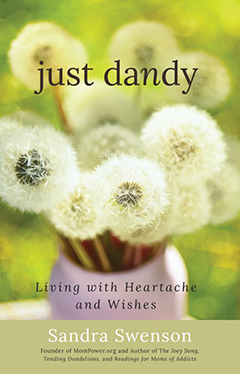 JUST DANDY
Living with Heartache and Wishes
Item 3728
In the pages of Just Dandy: Living with Heartache and Wishes, Sandra Swenson shares her pain and struggles, strength and determination, as crises continue to unravel her world in unexpected ways. Through her child's addiction, a divorce, beginning a career at sixty, caring for aging parents, and facing her own old age alone, Sandra shares her heartache and her journey of courage, resiliency, and acceptance of what is.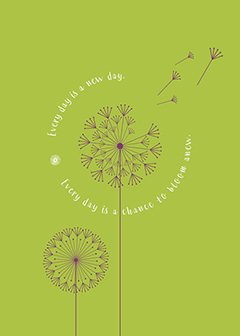 JUST DANDY JOURNAL
Item 5804
This beautifully designed journal is ideal for capturing feelings, thoughts, and insights to keep your recovery going strong. With a handy lay-flat binding and ample lined pages for tracking your journey, no matter what comes your way, it is possible to say you're "just dandy" and (usually) mean it.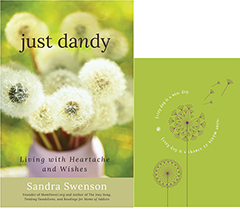 JUST DANDY - Set
Softcover and Journal
Item 4975
Just Dandy and this beautifully designed journal ideal for capturing feelings, thoughts, and insights are ideal to keep your life going in the right direction. No matter what comes your way, it is possible to say you're "just dandy" and (usually) mean it.


Readings for Moms of Addicts App

Buy this app from iTunes/Apple App Store or from Google/Android App Store.

This app contains 146 new readings that are different from, yet complementary to, the readings in the book Tending Dandelions. This convenient and searchable app format provides the perfect tool for use in support groups--such as Al-Anon, Nar-Anon Family Groups, or Families Anonymous--or at any time you need connection and motivation.

Features:

Automatically view a new reading each day you open the app

Search for a keyword that you want to read about today

Browse all readings by title and by the stage you are in your journey

Press the heart to mark a reading as a favorite, and quickly return to it when you need it most

Receive a daily notification to remind you to view a reading

Share your favorite readings with other moms through text or email

Sandy lives where love and addiction meet, a place where help enables and hope hurts. When addiction steals her son, Sandy fights for his survival, trying to stay on the right side of an invisible line between helping him to live and helping him to die. By age 20, Joey overdoses, attempts suicide, quits college, survives a near-fatal car accident, does time behind bars, and is kicked out of rehab more than once. Increasingly manipulative, delusional, and hateful, the sweet Joey from childhood is lost to the addict wearing his face. Working with an interventionist, a judge, and tracking Joey's movements online, Sandy does what she can to save Joey from himself until it hurts more to hang on than it hurts to let go. Through Family Programs, Al-Anon, reading, and learning from her mistakes, Sandy discovers that sometimes love means doing nothing, and that letting go is not the same thing as giving up. She also learns to work on surviving her son's addiction while coming to terms with the fact that he may not.




Social Media and Online:

sandyswenson.com

@sandyswenson1


facebook.com/sandyannswenson