Implementation Training
Available Training's:
EDUCATION AND EMPOWERMENT
Building Assets, Reducing Risks
(BARR)
Olweus Bullying Prevention Program
PREVENTION
Safe Dates
Too Good for Drugs
Project Northland & Class Action
Model Smoking Prevention Program
INTERVENTION
Marijuana Brief Intervention
Teen Intervene
Exploring Trauma
Healing Trauma
TREATMENT
Living in Balance
The Matrix Model
Twelve Step Facilitation
Co-occurring Disorders Program
Severe Mental Disorders Program
(IDDT & IMR)
Beyond Trauma
CANDIS Marijuana Treatment
JUSTICE-INVOLVED CLIENTS
A New Direction
The Matrix Model for Criminal Justice
Responsible Decisions DUI Program
Product Implementation Training
An Alcohol Prevention Program for 6th, 7th, and 8th Grade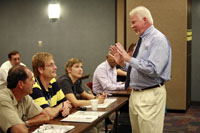 Training will help prevention specialists maintain program fidelity and optimize student experience with this research-based program. Training is scheduled regionally on an as-needed basis, or can be scheduled and customized to fit the needs of your major program installation.
Who should attend
Participants will be able to
discuss comprehensive prevention in relation to

Project Northland
describe the history and research of the original Project Northland study

implement strategies shown to prevent or reduce alcohol use as well as cigarette and other drug use

use a research-based curriculum full of text, audiocassettes, comic books, and posters created to appeal to the targeted age groups

integrate classroom activities, parent involvement, peer leadership, and community activities to consistently engage kids in prevention

shift families, students, and communities toward no-use norms for underage drinking

interact with other professionals and educators committed to youth health and safety
Length of training
1 day for each individual grade level, 8:00 - 3:00

2 days for 6th - 8th grade, 8:00 - 3:30
Agenda
DAY ONE

8:00 Welcome/Intro

8:30 Community Issues

9:45 Project Northland Overview

12:00 Slick Tracy(6th grade)

2:00 Amazing Alternatives(7th grade) sessions 1, 2, 3, and 4

3:15 Closure

DAY TWO

8:30 Amazing Alternatives: Sessions 5, 6, 7 and 8

Sessions

Small group and community projects work

Teaching tips and strategies

12:00 Powerlines (8th grade) sessions

3:15 Closure

For training, consultation and technical assistance please contact Hazelden Publishing at training@hazeldenbettyford.org or call 800-328-9000.