DTR package includes:
Purchase the full package at the special discounted price of $225.00.
Contact Us
Hazelden Publishing
15251 Pleasant Valley Road
P.O. Box 176 Center City, MN 55012-0176
Business hours: 8 a.m. - 4:30 p.m.
(Central Time)
Monday - Friday 800-328-9000
651-213-4200
651-213-4793 fax
email us
Hazelden Publishing
Double Trouble in Recovery
Peer support is critical to co-occurring recovery
People with co-occurring addiction and mental health disorders have found support through Double Trouble in Recovery (DTR) peer groups since 1989.

These peer support groups help you face the challenges and issues specific to you in an understanding, all-inclusive atmosphere. This site offers free materials and information on leading and participating in a DTR group in your area.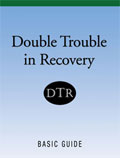 Double Trouble in Recovery
Basic Guide

Item 3818 - $10.75
Similar to the Big Book of Alcoholics Anonymous, the Double Trouble in Recovery Basic Guide helps those suffering with co-occurring disorders gain the strength and hope needed to live with and manage your disorders through the Twelve Steps and the Twelve Traditions.
Order the Double Trouble in Recovery Basic Guide Now!
Use these free printable posters and brochures (in pdf format) as a complement to your Basic Guide in your Double Trouble in Recovery group meetings.
Suggestions for Starting a Double Trouble in Recovery Group Pamphlet
With this pamphlet, you can learn how to begin a DTR group, organize your meetings, and communicate expectations to the group.
The Role of Sponsorship Pamphlet
Read this pamphlet to better understand what a sponsor is, why it is important to have one, and how to find and have a good relationship with your sponsor.
Mark Your Calendar Poster
To help group members remember the time and place of your next DTR meeting, print off this sheet and fill in your meeting information.
The Twelve Steps of Double Trouble in Recovery Poster
An important part of your group meetings is to understand the Twelve Steps of recovery. This poster lists the Twelve Steps of DTR and can be posted at your meeting place for group members to keep in mind and follow.
The Twelve Traditions of Double Trouble in Recovery Poster
As a daily reference for group members, print off this "Twelve Traditions" poster and place it at the site of your meeting place.
Sample Script for Double Trouble in Recovery Meetings
If you aren't sure how to organize your first DTR group meeting, print off this sample script as a guide to follow.