Cyber Bullying: A Prevention Curriculum
for Grades 6-12
Cyber bullying--the willful and repeated act of harming others electronically (through
email, instant messaging, Web sites, chat rooms, social networking sites, cell phones and other electronic means)--is a relatively new issue. But it has clear consequences and needs to be addressed. That's why Hazelden has published Cyber Bullying: A Prevention Curriculum for Grades 6-12.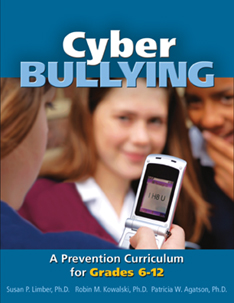 The consequences of cyber bullying can be far-reaching. Victims may experience low self-esteem, poor academic achievement, difficulty making friends, loneliness, depression, and suicidal thoughts and tendencies. Reports of suicide following incidents of cyber bullying have been in the news.
About one-third of all teens using the Internet have been bullied, and as more students become "wired" at increasingly younger ages, this rate will increase. We also know that bullying in any form is tied to a host of other behavior problems, including substance abuse.
Education and prevention are keys to halting cyber bullying. The Hazelden cyber bullying curriculum is authored by nationally renowned experts in the field of bullying prevention. It will help:
increase student and parent awareness of cyber bullying
equip students with the skills to treat others respectfully using cyber technology
give students the tools to get help if they are cyber bullied
develop schoolwide policies and procedures
The curriculum meets national education standards and can be used in conjunction with the research-based Olweus Bullying Prevention Program.
For more information call 800-328-9000.
Published Summer 2008, The Voice